Development Diary 21: Trailer Time!
1st March 2016
Howdy y'all! Welcome to our first dev diary of 2016, and a very special diary it is - after a lot of digital elbow grease and a few late nights, we're super excited to reveal our first trailer! 2016 is a busy year for Filly HQ, so expect lots more updates, but for now, enjoy the teaser. Yeehaw!
Development Diary 20: Shadow Puppets
30th November 2015
Hey everyone! Welcome to our (drum roll...) 20th development diary! We've had a great expo season exhibiting with Filly, but for now, it's back into Unity, and this week we've got a new mechanic to show you: a side-scrolling mini-game where you play as a shadow puppet. Check out the video below for another round of programming trickery.
Development Diary 19: Filly the Kid at GameCity (and in The Guardian!)
23rd November 2015
Howdy folks! Let me start off by saying a huge thank you to everyone who played the demo at GameCity 2015, chasing guards, traversing terrain and weeding out those pesky bugs. The wonderfully chilled-out GameCity vibe was fabulous as always and we had a great time demo-ing, meeting players and fellow developers, and getting through a ridiculous amount of pepperoni pizza toasties from the GameCity café.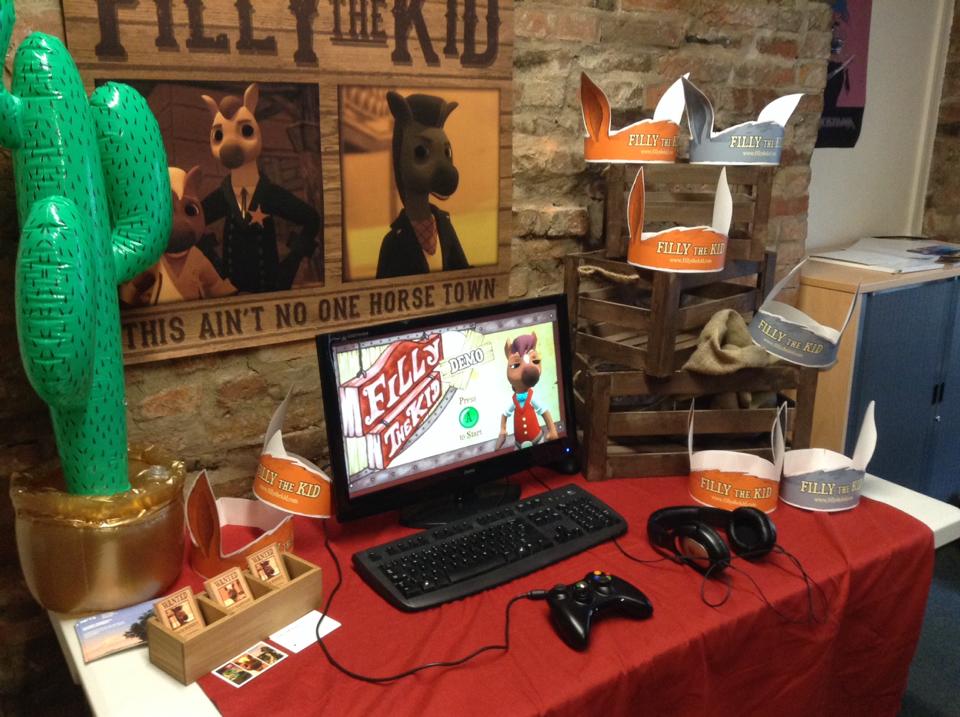 All set up at GameCity, complete with horse ears and an inflatable cactus
We were also very excited to be featured in the Guardian's round-up of highlights from GameCity 2015, which you can check out here! And with that in mind, here's a few of our own highlights from the festival.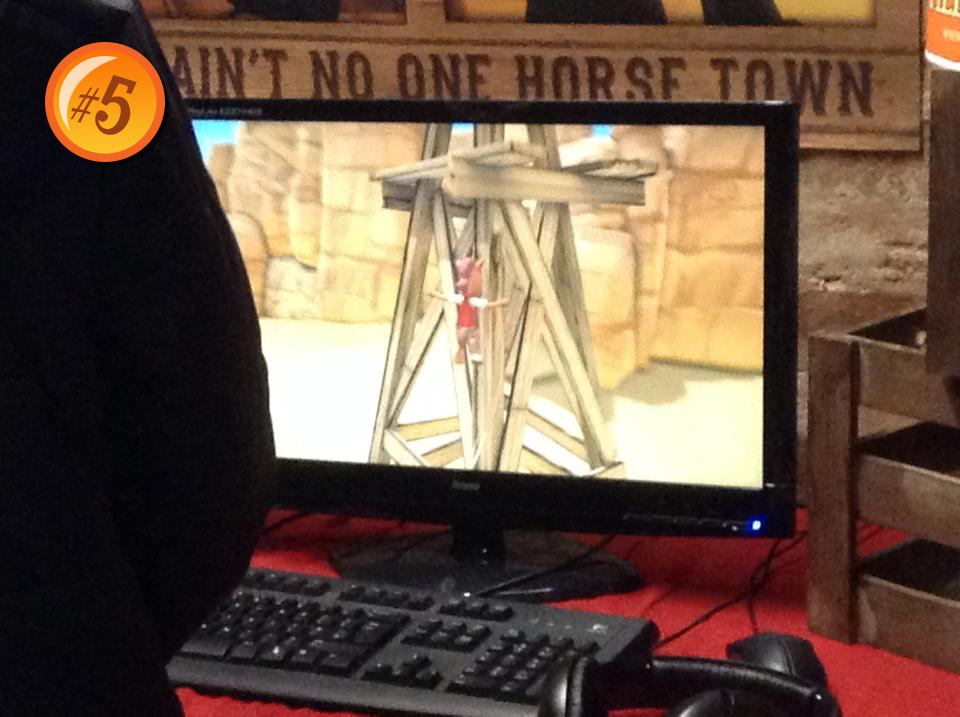 This player finds a bug which imbues Filly with ninja-grade climbing skills and uses it to climb the town windmill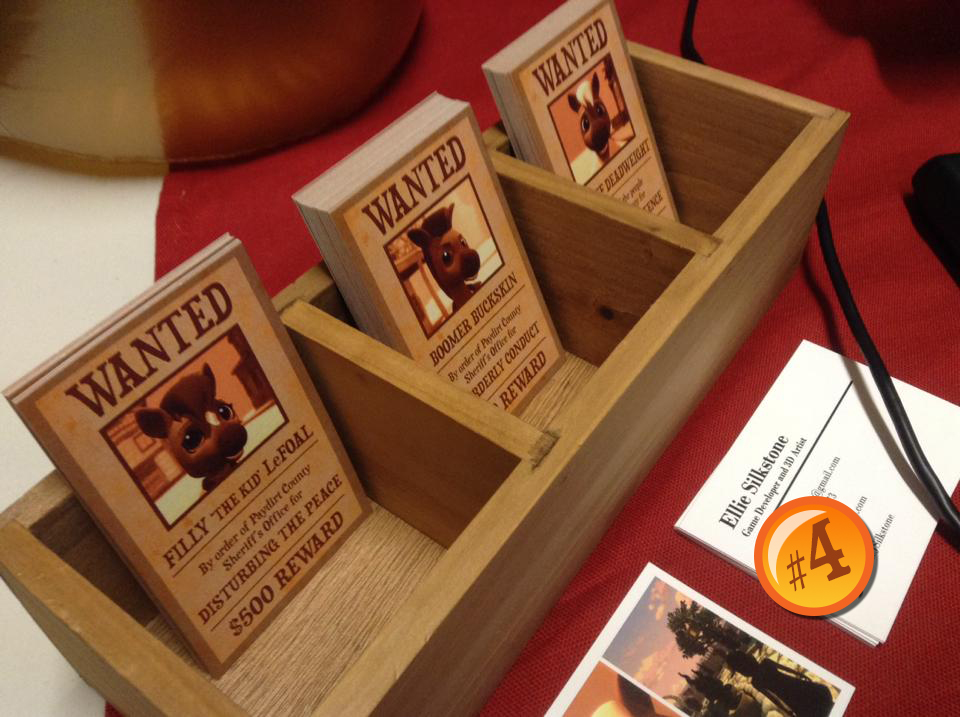 Filly, Boomer and the Sheriff are Paydirt County's most wanted, for disturbing the peace, disorderly conduct and gross incompetence respectively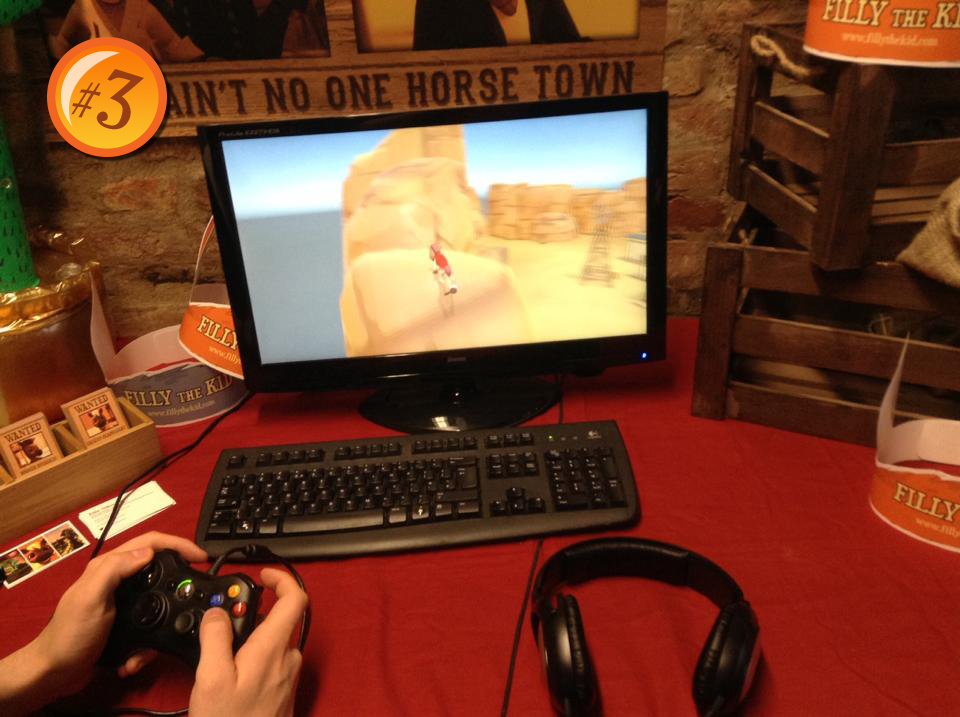 Remember those ninja-grade climbing skills? This player goes the extra mile - literally - and scales Paydirt County canyon walls to find the edge of the world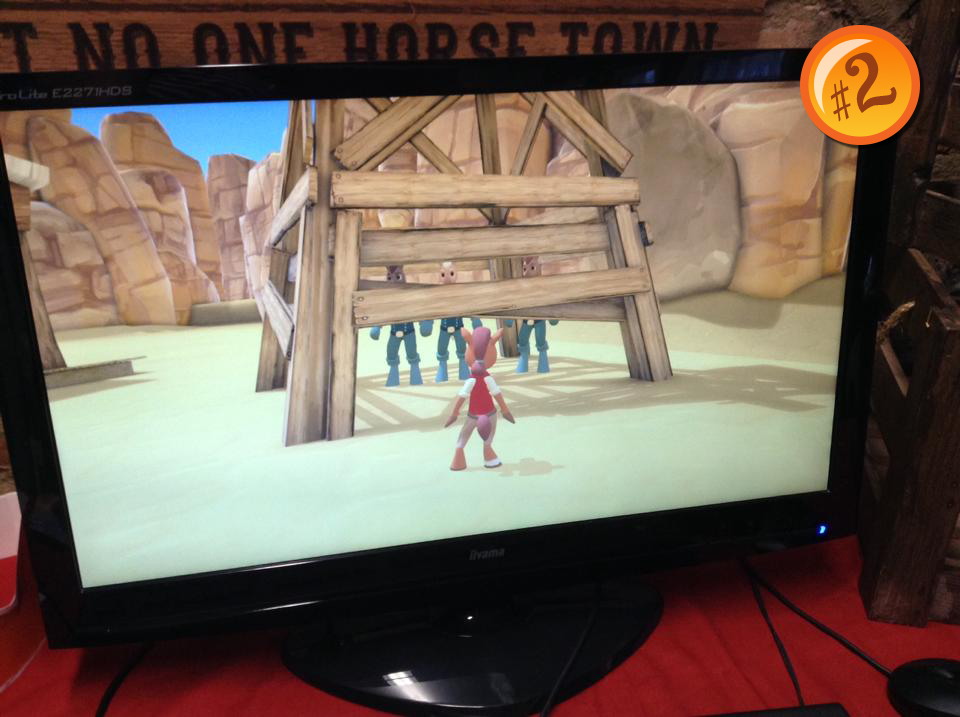 The town windmill again, this time being used as a handy makeshift jail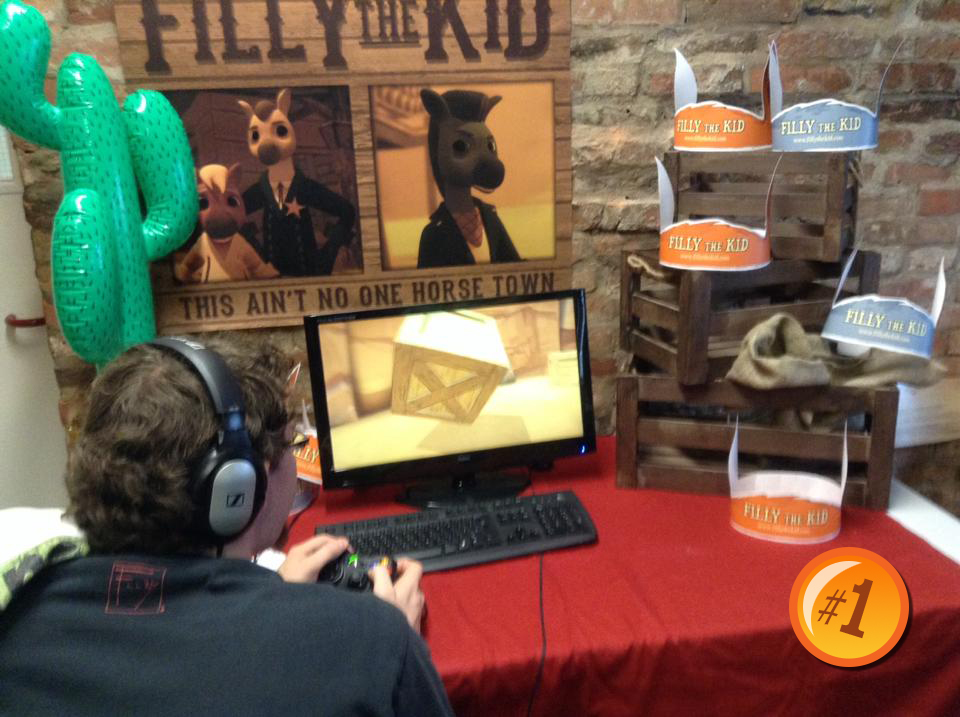 And finally, this intrepid player constructs a tower of crates to rescue favourite crate 'Timmy', and drags Timmy with him all the way to the end of the level
So all in all, a very fun, and very useful, public outing for the game. For now, it's back to the studio, so stay tuned for more development updates.
Development Diary 18: Filly the Kid at EGX 2015
25th October 2015
Hey everyone! First off, a massive thank you to everyone who came to see us at EGX Birmingham - we had a fantastic time and got a lot of awesome feedback from you all. This week is an extra special video diary, a round-up of the best bits from our four days at the EGX stand. Check it out below to see our mascot getting up to all sorts of antics as the awesome players at EGX try their hand at our demo.

And for all you folks itchin' to keep up with our progress, you can now like us on Facebook, or follow us on Twitter @Fillythekidgame. And that's not all! Tomorrow morning we're heading to the wonderful GameCity Festival in Nottingham, where we'll be for a whole six days, so don't forget to come and see us and have a play of our new improved demo. See you there!
Development Diary 17: Motion Capture
22nd September 2015
Howdy y'all! Welcome back to Filly HQ. First off, apologies for the radio silence, we've been deep into crunch mode getting everything ready for our next public outing: EGX Birmingham. Going to be there? Then don't forgot to come and say hi and try your hand at our demo!

In the meantime, we've got some exciting stuff to show you in this week's video diary. We recently underwent a motion capture session to get those all-important character animations, which was super fun and, like many of our ventures, will save us a ton of time, which is great for an itty bitty dev team like us. Check out the video below for some highlights of the day.
Development Diary 16: Making Filly
11th August 2015
Welcome to diary 16. This week, we're taking a quick look at the character building process from start to finish, including concepting, building high resolution models, retopology and adding accessories. Check out the video below to see the process for the creation of our lead character, Filly.